"Doctor Who", the Resurrection Casket by Justin Richards Audio Book CD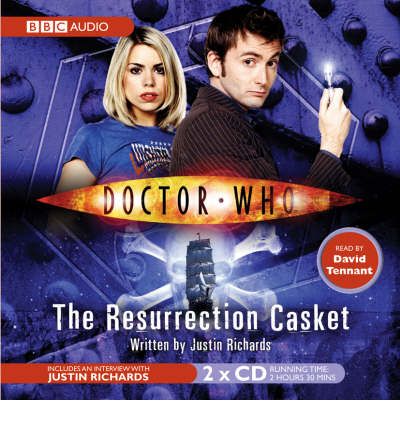 "Doctor Who", the Resurrection Casket by Justin Richards
Get other Science Fiction AudioBooks hereGet other Dr Who Science Fiction AudioBooks here
Starfall - is a world on the edge, where crooks and smugglers hide in the gloomy shadows and modern technology refuses to work. And that includes the TARDIS. The pioneers who used to be drawn by the hope of making a fortune from the mines can find easier picking elsewhere. But they still come - for the romance of it, or old-fashioned organic mining. Or in the hope of finding the lost treasure of Hamlek Glint - scourge of the spaceways, privateer, adventurer, bandit...Will the TARDIS ever work again? Is Glint's lost treasure waiting to be found? And does the fabled Resurrection Casket - the key to eternal life - really exist? With the help of new friends, and to the horror of new enemies, The Doctor and Rose aim to find out...Featuring the Doctor and Rose as played by David Tennant and Billie Piper in the acclaimed hit series from BBC Television, this work is written by Justin Richards. It is read by David Tennant, and includes author interview by David Darlington of "Doctor Who Magazine".
Talking Books are a outstanding means to read through a book. Audio Books can be used anyplace, often when you would have no occasion to read through a book. You can enjoy listening to to an mp3 audio book whilst you are spinning on the bike. Talking Books can be a way to gain better comprehension. Students while listening have a higher capability to comprehend the words. Humans have had a long convention of passing myths on to the subsequent generation . You can convert your audiobook on CD to mp3 format
understanding on audio book conversion is here, you can convert to many formats such as mp3 flac and ogg
.
There are details in this article about what audio books are factors like the difference between abridged and unabridged and formats
"Doctor Who", the Resurrection Casket by Justin Richards
Software: ClickCartPro, Copyright 1999-2021 Kryptronic, Inc. Exec Time: 0.120962 Seconds Memory Usage: 2.199745 Megabytes