Bedtime Meditations for Kids - Christiane Kerr - AudioBook CD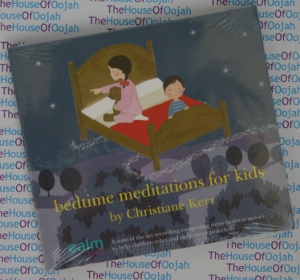 Bedtime Meditations for Kids
by Christiane Kerr
Unabridged 1CD Audio Book Set
Bedtime Meditations for Kids - by Christiane Kerr - Audio Book CD
Brand New (1 CD - 1 hour):
About Bedtime Meditations for Kids
This is a superb high quality children's bedtime meditation CD by leading yoga teacher and Montessori teacher Christiane Kerr. A mother of two, Christiane runs relaxation and yoga courses for children. Her work has been featured in the national press and on TV and is now available through a new range of state of the art CDs published by Diviniti Publishing. This 52 minute CD comprising of 3 bedtime meditations is specifically designed to help kids sleep more soundly. There are also a number of suggestions to help children feel more confident and secure in their home and school life. Drawing upon her vast experience of working with children, Christiane skilfully guides children to the creative part of their mind through a number of carefully scripted story meditations. Each meditation story has an underlay of subtle sound effects and gentle music which combined with Christiane's calming voice make them irresistible and a deeply relaxing bedtime treat. This empowering CD is completely safe and very effective way to help your kids drift away into a peaceful sleep and to help build their self-confidence and self-esteem. The CD can also be used as a general relaxation at other times and is suitable for all children up to the age of 12.
About Christiane Kerr
Christiane has been teaching yoga for over 15 years, specialising in yoga for children and teenagers. She has a background in Montessori education and as well as a Sivananda training Christiane also completed a two year course with the YTTC in London. This was led by Chloe Fremantle and is influenced by the teachings of Vanda Scaravelli. This course is currently undergoing accreditation from the BWY. Chritiane has also worked with Pete Blackaby and John Stirk..Calm for Kids was set up by Christiane Kerr in 1999. Our aim is to promote yoga and relaxation for children and teenagers. We are committed to providing the highest quality training and development facilities and our courses aim to give students the necessary skills and tools to confidently teach yoga to young people. Chrisitane started teaching relaxation sessions when she was a Montessori teacher and observed first hand the effect the sessions had on the children's behaviour during and after the class. They were much calmer and more focused. After repeated requests from parents and teachers, she produced the Calm For Kids relaxation CDs. Calm For Kids aims to teach yoga to children in a fun and engaging way without detracting from its fundamental principles.We aim to give children a sense of self and to teach them invaluable life skills and healthy habits through asana, breahting and relaxation.
Bedtime Meditations for Kids - by Christiane Kerr - Audio Book CD
You Might Also Like...
Software: ClickCartPro, Copyright 1999-2021 Kryptronic, Inc. Exec Time: 0.130395 Seconds Memory Usage: 2.282738 Megabytes