Enchanted Meditations for kids Christiane Kerr- Childrens Relaxation Meditation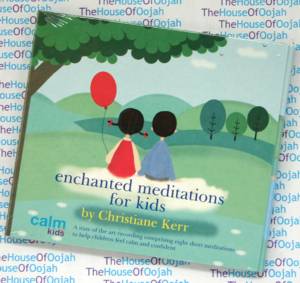 Enchanted Meditations for Kids
by Christiane Kerr
Eight Short Meditations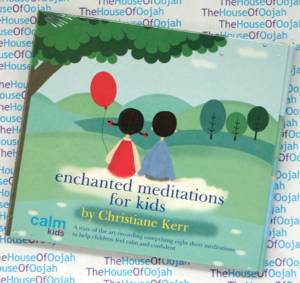 Enchanted Meditations for Kids by Christianne Kerr - Audio CD
Brand New : 1 CD
These stunning meditations vary from 4 - 10 minutes each in length and can be used separately or run together as one track. Tracks from this CD include: Jellyfish Relaxation; An Underwater Dolphin Ride; The Magic Rainbow; Butterfly Relaxation and Enchanted Garden and a Hot Air Balloon Trip. Beautiful calm journeys to help children with confidence, self esteem and creativity. Enchanted Meditations for Kids is a wonderful relaxation aid which can be used either at home or at school. There are four delightful visualisations each introduced by a relaxation exercise. Allow your child to float away on an enchanted journey that will help them feel more confident, calm and relaxed.
About the Author Christiane Kerr
Christiane has been teaching yoga for over 15 years, specialising in yoga for children and teenagers. She has a background in Montessori education and as well as a Sivananda training Christiane also completed a two year course with the YTTC in London. This was led by Chloe Fremantle and is influenced by the teachings of Vanda Scaravelli. This course is currently undergoing accreditation from the BWY. Chritiane has also worked with Pete Blackaby and John Stirk..Calm for Kids was set up by Christiane Kerr in 1999. Our aim is to promote yoga and relaxation for children and teenagers. We are committed to providing the highest quality training and development facilities and our courses aim to give students the necessary skills and tools to confidently teach yoga to young people. Chrisitane started teaching relaxation sessions when she was a Montessori teacher and observed first hand the effect the sessions had on the children's behaviour during and after the class. They were much calmer and more focused. After repeated requests from parents and teachers, she produced the Calm For Kids relaxation CDs. Calm For Kids aims to teach yoga to children in a fun and engaging way without detracting from its fundamental principles.We aim to give children a sense of self and to teach them invaluable life skills and healthy habits through asana, breahting and relaxation.
Enchanted Meditations for Kids by Christianne Kerr - Audio CD
You Might Also Like...
Software: ClickCartPro, Copyright 1999-2021 Kryptronic, Inc. Exec Time: 0.12935 Seconds Memory Usage: 2.262924 Megabytes