Homage to Catalonia by George Orwell AudioBook CD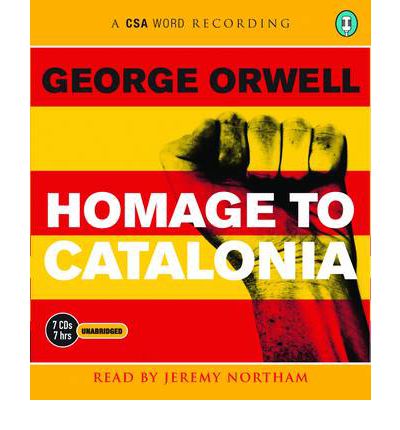 Homage to Catalonia by George Orwell
Get other Biography AudioBooks hereGet other War and Military AudioBooks hereGet other George Orwell here
ISBN: 9781906147839 / Cat No: TT7CD903 Homage to Catalonia is George Orwell's vivid account of his experiences fighting in the Spanish Civil War, and a portrait of disillusionment which offers background to the anti-Stalinist subtexts to his later novels, Animal Farm and Nineteen Eighty-Four. Orwell's experiences include being shot in the neck by a sniper, and being forced into hiding as factions of the Left battle on the streets of Barcelona. Orwell entered Spain intending to gather an experience worth writing as well as to fight Fascism, and wrote Homage to Catalonia within months of his return. His fresh memories, honesty and bitterness make for a fulfilling and rounded account of a man's journey from naive enthusiasm to a reluctant loss of ideals. The book was praised for being one of few works of literature to come out of the Spanish Civil War which didn't toe the Communist line; instead, Orwell expresses his anger and unsentimentality about the Left, having seen the political chaos of Republican Spain with his own eyes.
Audio Books are a marvelous means to read a book. AudioBooks can be used anywhere you want to, commonly when you would have no possibility to read through a book. You can listen to an audio book whilst you are driving and need to keep awake. AudioBooks can be a way to gain additional comprehension. Adults while listening have a higher capability to comprehend the words. Individuals have had a long convention of transferring experiences on to the next generation with a tradition of talking through the stories. You can convert your audiobook on CD to mp3 format
a guide on to move your audiobook to mp3 framework is here
.
Info about what are audio books in this article
Homage to Catalonia by George Orwell Audio Book
Software: ClickCartPro, Copyright 1999-2021 Kryptronic, Inc. Exec Time: 0.122829 Seconds Memory Usage: 2.158714 Megabytes