Speaking for Myself by Cherie Blair AudioBook CD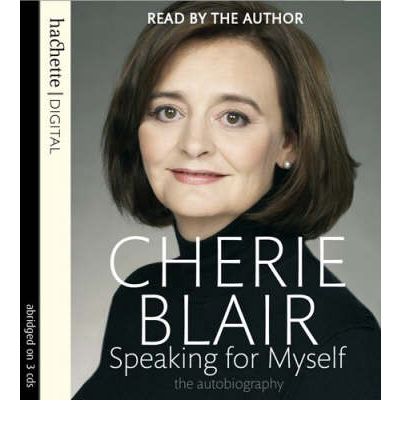 Speaking for Myself by Cherie Blair
Get other Biography AudioBooks here
Cherie Blair's much-anticipated autobiography takes the reader from a childhood in working-class Liverpool to the heart of the British legal system and then, as the wife of the Prime Minister, to 10 Downing Street. It has been an astonishing journey for a woman whose unconventional childhood was full of drama, and who grew up with a fierce sense of justice. Cherie Blair was the first British Prime Minister's wife to have a serious career, rising to the top of her profession at a young age, only to find herself in a new and challenging role in the public eye. In her autobiography she will speak for the first time about what it was like to combine this role with her full and rewarding life as a working mother. As a barrister and a judge, Cherie Blair is used to speaking on behalf of other people. At last she speaks for herself, offering a warm, intimate and often very funny portrait of a family living in extraordinary circumstances.
Audio Books are a awesome process to read through a book. Talking Books can be used anywhere, oftentimes when you would have no possibility to read a book. You can listen to an audio book when you are riding an exercise bike. Talking Books can be a way to gain better understanding. Many people while listening have a improved ability to understand the words. Humans have had a long custom of transferring experiences on to the up coming generation by aural means. You can convert your audiobook on CD to mp3 format
there is answers here on conversion of your CD audiobook to a structure that can be made use of by your portable player
.
There are specifics in this article about what talking books are things like the difference between abridged and unabridged and formats
Speaking for Myself by Cherie Blair Audio Book
Software: ClickCartPro, Copyright 1999-2022 Kryptronic, Inc. Exec Time: 0.123307 Seconds Memory Usage: 2.158562 Megabytes