The Collected Stories: v. 5 by Arthur C. Clarke AudioBook CD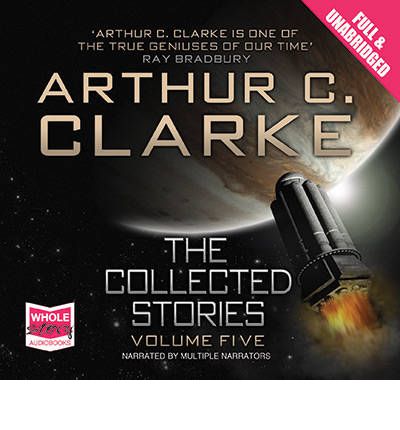 The Collected Stories: v. 5 by Arthur C. Clarke
Get other Science Fiction AudioBooks hereGet other Classic Fiction AudioBooks here
This is a fifth collection of gripping short stories from the most acclaimed Science Fiction author of any generation. Arthur C Clarke is without question the world's best-known science fiction writer, enjoying a career of unequalled success. Clarke has always been celebrated for his prophetic vision, which is fully on display in this audiobook, but there are also many stories which show his imagination in full flight. This is the fifth and final volume in the collection, and includes some of Clarke's most accomplished work, including "Dog Star", "The Light of Darkness" and "The Hammer of Gods". This recording is unabridged. Typically abridged audiobooks are not more than 60 per cent of the author's work and as low as 30 per cent with characters and plotlines removed.
Audio Books are a incredible way to read a book. AudioBooks can be used any where, usually when you would have no prospect to read through a book. You can listen to an audiobook whilst you are cleaning the house. Talking Books can be a way to gain elevated comprehension. Men and women while listening have a higher capability to connect with the words. Individuals have had a long heritage of passing myths on to the subsequent generation with a tradition of talking through the stories. You can convert your audiobook on CD to mp3 format
data on audiobook exchange is here, you can convert to many formats such as mp3 flac and ogg
.
More information on what audio books are here
The Collected Stories: v. 5 by Arthur C. Clarke
Software: ClickCartPro, Copyright 1999-2023 Kryptronic, Inc. Exec Time: 0.123819 Seconds Memory Usage: 2.204651 Megabytes